National University Corporation Nagasaki University Bunkyo Campus
(Location of the Center for Educational Innovation)
Office of Center for Educational Innovation
1-14 Bunkyo-cho, Nagasaki 852-8521, Japan
Tel: 095-819-2077
Fax: 095-819-2259
E-mail: Inov_info☆ml.nagasaki-u.ac.jp (Please change "☆" to "@".)
Access
From Nagasaki Station (JR)
Streetcar: Nagasaki Stn. → (for Akasako) → Nagasaki Daigaku Mae Stop
Nagasaki Bus: Nagasaki Station Bus Stop → (Route 1 "Mizokawa", "Kamitoko", "Kamiyokoo") → get off at Nagasaki University Bus Stop
From Urakami Station (JR)
Streetcar: Urakami Stn. → (for Akasako) → Nagasaki Daigaku Mae Stop
Nagasaki Bus: Urakami Stn. → (Route 1 "Mizokawa", "Kamitoko", "Kamiyokoo") → Nagasaki Daigaku Mae Stop
From Nagasaki Airport
Prefectural Bus: Nagasaki Airport Bus Stop #4 (bound for Nagasaki via Showa-machi and Urakami) → get off at Chodai Uramon-mae Bus Stop → walk
For visitors coming by car
As of October 1, 2018, an entrance fee of 300 yen is required as a general rule.
Please enter the campus through the main gate and complete the prescribed procedures at the guard room.
If you come to the university by cab, you are exempted from paying the entrance fee and can enter the university directly.
Campus Information
Enter through the main gate and go straight down the right side corridor, pass the library building on your right, turn right and go through the round pond.
The office is on the left side of the building, just after you open the door on the right side of the corridor with the bicycle storage area.
The office is on your left.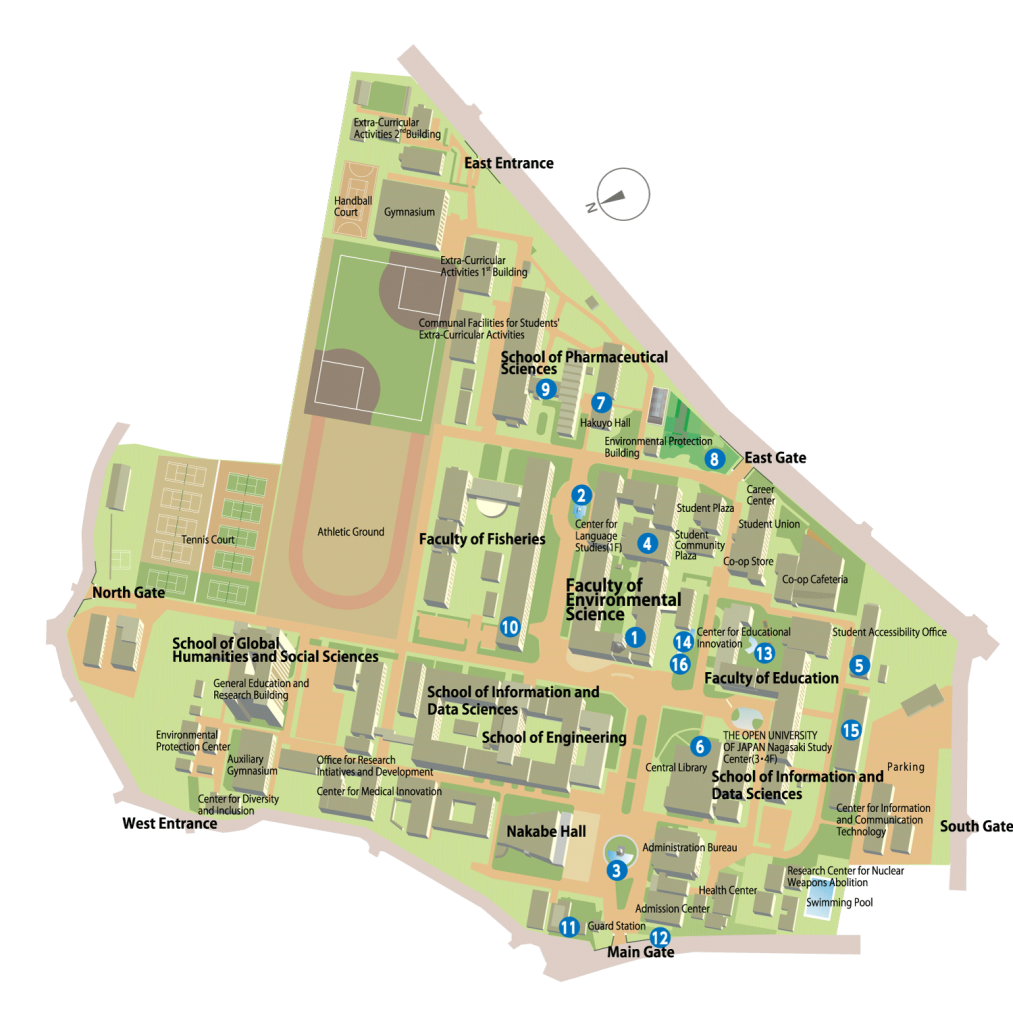 | 名称 | | | |
| --- | --- | --- | --- |
| 1. Clock Tower and Mural | 2. Whale Cannon | 3. Statue of Youth | 4. Global Education and Student Support Center Bunkyo Sky Hall |
| 5. NAGASAKI SOGAKUDO (Music Building 1F) | 6. Library Gallery | 7.Statue of Honorary Doctor Osamu Shimomura | 8. Medicinal Plant Garden |
| 9. History Museum of Medicine | 10. Fisheries Science Museum | 11. Cenotaph for A-Bomb Victims | 12. Monument to the Mitsubishi Weapons Factory |
| 13. Omoyai Square and Biotope | 14. Chionanthus Retusus | 15. Art and Tech Exhibition Lab SOSOKAN | 16. Statue: In the wind~Dream of Tomorrow~ |